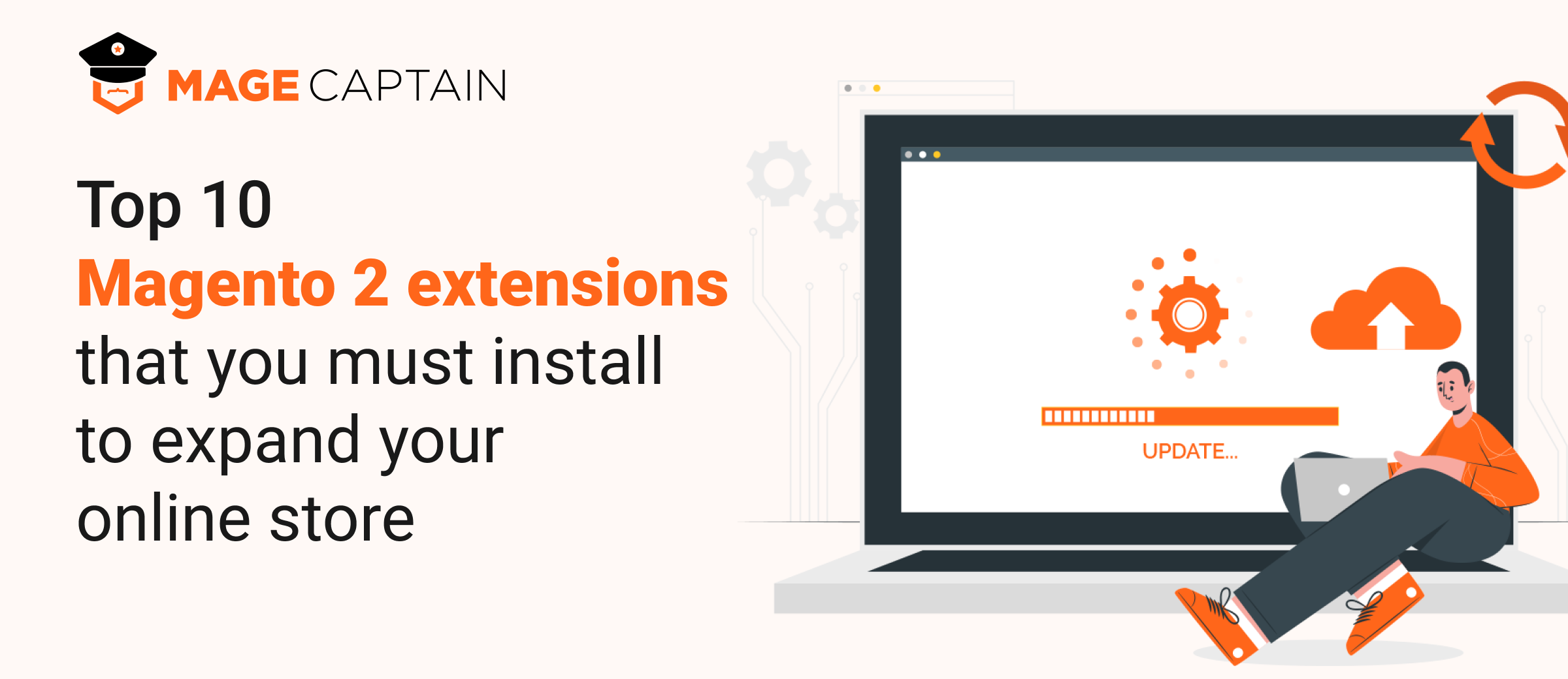 Introduction
Are you working with Magento's eCommerce platform? You want to turn your online store into modern, usable, and accessible on an eCommerce platform with the help of Magento 2 Extensions.
Magento is used to design an eCommerce website that is open source. Magento has maintained its top position that provides numerous functions and bug fixes, enhancement, and critical updates. It is always preferred to use the latest version of Magento that is Magento 2.
Here, we talk about Magento 2 best extensions. Magento 2 extensions are software that you will have to install according to the requirement and use wisely. It is used to extend your store functionality and features. All the extensions are described here fully compatible with the Magento version.
One Step Checkout
Simple Mail Transfer Protocol
Progressive Web Application
Search Engine Optimization
Security Suite Extension
1.WebP Images Converter
WebP is the modern image format that provides better lossy and lossless compression for images on the web. The Magento 2 WebP image converter extension allows users to reduce the size of images like jpg, gif, png, etc. by converting them to WebP image format and gives an improvement in page loading without compromising its quality. It enhances website speed, performance, and SEO. It has multiple browser compatibility. It supports three conversion tools like GD, cwebp, and Imagick.
2.Attribute Rule Based Product Slider
This Magento 2 extension is very useful for merchants and shoppers that helps to increase their sales by adding the specific product feed into their content-driven pages. The full form of USP is a Unique Selling Point that makes your products and services better than the others. The USP of this slider is that it helps merchants and shoppers to display slider with a random product of the defined rules of the attributes along with many configurable options from the admin panel. This Magento 2 extension offers a fully responsive product slider as per characteristic, price, and category that could be easily managed by the admin.
This extension creates multiple sliders and calls specifically created to a specific page or block. It configures easily through the widget. Slider layout can be modified with the help of options in the setting taps like display image, display title, display price, etc. It offers slider options as given below that admin can define for slider behavior: arrow, infinite loop, autoplay, and autoplay speed.
3.Product Attachment and Downloads
With the help of product attachment, merchants and shoppers offer a great customer purchase experience. It is necessary to provide product detailed description to the customer that helps in the purchase process in case of a Complex Product. So, there is no need for customers to contact you. This Magento 2 extension supports all images, video, audio, document format. You can easily upload a user guide, certification, tutorial, price list, and many more. It provides the functionality to show a separate tab on the product page for viewing and downloading the attachment.
4.Search Auto Complete
This extension offers a built-in search experience and suddenly display search suggestion based on the first entered character. With the help of this functionality, the customer quickly moves from the search box to the checkout point. Search product list and category list show in autocomplete without any page load.
5.One Step Checkout
It helps to raise customer conversion rates and reduce cart abandonment due to an attractive and quick checkout process. It provides an editable product option on the checkout page. It offers attractive and easy different payment methods. It provides customizable and mobile-friendly checkout page design and convenient order detail. It displays the delivery time and date option enables order and delivery comments. It detects geolocation with the GEO IP tool. It applies discount codes and gift cards.
6.Simple Mail Transfer Protocol
With the help of SMTP, all emails are easily sent to the recipient's inbox without going into the spam box which supports your promotional campaigns and enhances communication efficiency. It allows you to test if the current email setting is working properly or not. It provides your store with a configurable host and port. You can take more control over your email customization and run a test section on your Magento 2 SMTP server.
7.Progressive Web Application
Progressive web application that uses modern web technologies including HTML, JavaScript, web assembly, and CSS. It designs patterns to provide a reliable, fast, and engaging user experience. It acts and feels like a native application. It launches in the same way as a native application regardless of browser choice.
This extension allows you to send push notifications to targeted customers on both desktop and mobile. It will help to reduce the time and cost of development. It is very easy to implement just by adding it to the home screen.
There are various types of Magento 2 PWA extensions. So, you can select any according to your requirement. It enhances online store performance and upgrades it to a more mobile-friendly and responsive site.
8.Search Engine Optimization
Search Engine Optimization is an integral part of online marketing strategy. SEO is the practice of getting a higher rank on web page searches. The Magento 2 SEO extension is designed to make your online store take the top position on different web search pages. It helps to drive more traffic towards your website. Ultimately, it engages more customer and grows sales revenue, and also save money on paid advertisement. It eliminates duplicate content with unique product URLs. There are lots of powerful Magento 2 SEO extensions. So, users can select any according to their requirements. It creates meta tag templates automatically. It generates automated internal and external cross-links.
9.Eliminate Render Blocking
While loading any website whenever a browser encounters any scripting or CSS files, then it creates render-blocking. With the help of eliminating render-blocking extension, to put the script tag before the end of the page body to improve site advancement score. It is easy to set up and enable or disable extensions from a backend. It gives email notification and further developed site speed.
10.Security Suite Extension
Security is one of the main and most important requirements of any online store owner. So, the security suite extension is used to ensure your online store's protection from various hacks, attacks, and other security threats. It receives notifications about all suspicious login activities. It offers double security to the store with two-step authentications. With the help of a security suite extension, you get information on backend activities. It can able to ban undesired visitors from accessing your website.
Closure
In this blog, we have tried to be aware of the top 10 Magento 2 extensions. With the help of different Magento 2 extensions, you can extend the functionality and features of your online store. You require very creative persons who design flexible Magento 2 extensions, to make online store business more efficient.
Conclusion
Selection of the right Magento 2 extension for your online business not only you can extend your productivity, but also helps to manage your work easily as well. With the help of the best Magento 2 extensions, you can improve the performance of your eCommerce business in the best way possible.
You have any problem while running your store on the Magento eCommerce platform, Magecaptain is ready to help you. Magecaptain is Magento certified eCommerce development company that gives a solution that helps to grow your business. It has a strong workforce of expert and innovative developers who design various Magento 2 extensions. Recently, they have developed and designed some Magento 2 extensions like WebP image converter, search autocomplete, attribute Rule-based product slider, security suite extension, etc.