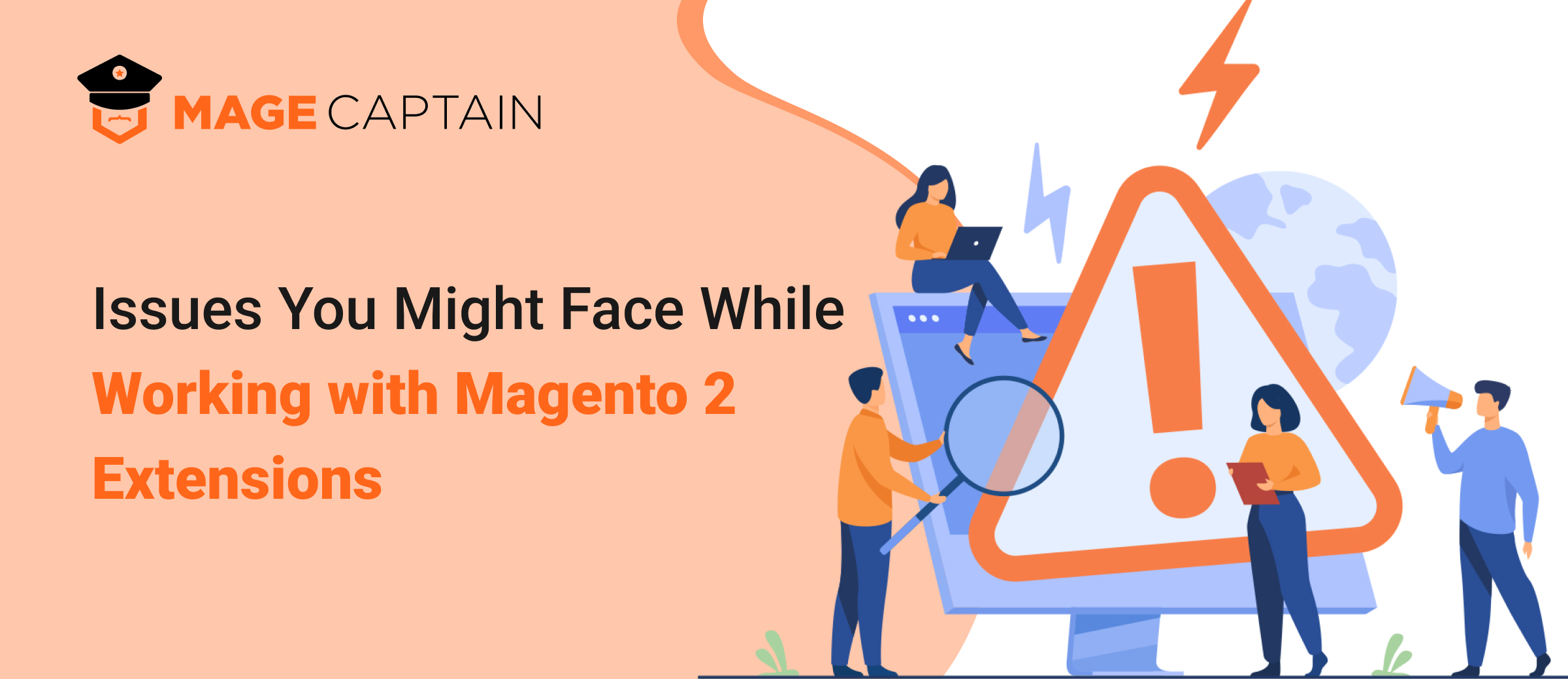 Are you working with Magento eCommerce platform and have you any issues while working with Magento 2? So, this blog is for you to know about common issues and their solutions.
Magento is an open-source eCommerce platform. It offers different features to build and grow an online store from the ground up. It has created a reputation as the best eCommerce platform solution for small, medium and large-scale businesses. Magento is becoming very famous because of its endless option in customization.
It is always preferred to use the latest version of Magento that is Magento 2. The latest version is coming with new challenges. When you shift from the old version to the new, you may face some of the issues. To solve these issues with the help of Magento 2 extensions. Magento 2 extension is the software that is used to extend your store functionality and features.
In this blog, we talked about issues while working with Magento 2 and their solutions. There are the we can consider like creating web form or html form, difficult to maintain additional information about potential buyers or customer, badges on products, difficult to manage product URLs, image conversion, etc., and will discuss the solutions like form builder, customer attribute, product badges, product URL rewrite, webp image converter, etc., accordingly.
The most common issues and their solutions are described below.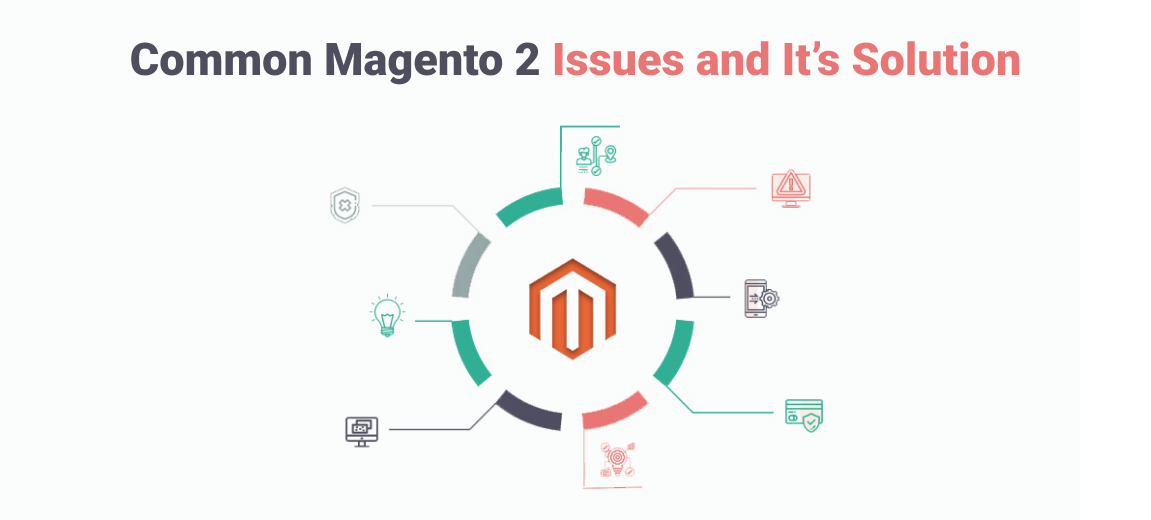 Form builder
It is a difficult task to create web form or html form for Magento 2 users or non-technical persons. Form builder offers this functionality that can create and manage forms easily without any knowledge of programming or coding. With the help of the form builder, users can create various types of form as per requirement. Form builder offers full control over the content and appearance of form. You can add any number of fields, make any of the compulsory, select input type for each one like text, checkbox, drop-down, file upload, etc. and apply input validation. It improves your communication with customers by creating single page or multi page forms and as a result, it helps your business expand successfully on the Magento 2 platform with form builder extension.
Customer attribute
Merchants and shoppers need some additional information about its potential buyer or customer. It is not easy to maintain. It can create unlimited customer attributes. It is a useful extension adding an extra attribute field to collect valuable information about customers on registration or an account page. It has an option to enable or disable function. It offers storefront properties like to set sort order for attribute, hide or show registration page and account edit page. It offers an easy graphical user interface that helps making the implementation process easy and attractive.
Product badges
Badges on products play an important role for any online store. Badges on products which attract more customers and pay more attention towards that product. The product badges extension helps to create badges on products with certain rules. It offers user friendly and flexible configuration. It offers you to create badges on products into two different formats: one with an image or icon and second with the text with some design. It helps to run several marketing campaigns at a time. It helps to grow sales.
Product URL rewrite
There are a number of products available in the online store. The client imports the product through the sheet, in case of this situation. Sometime after product import, Product URLs are not automatically generated. This is difficult to manage because users have to do it manually. The product URL rewrite extension overcomes these issues. It has an option to enable or disable the function and suppose disable this extension, it will not show in the front end. This extension is very important in terms of SEO.
Webp image converter
If you are not able to use photos, graphics or images, file format is not supported. Image conversion is required with perfect quality, size and compression. Webp is the modern image format that provides better lossy and lossless compression for images on the web. The webp image converter extension allows users to reduce the size of different images like jpg, png. Gif, etc. by converting them into web image format. It gives output without quality loss or even same image quality. It enhances website speed, performance and SEO. It offers better customer retention and reduces bounce rate.
Installation problem
Before you run the Magento 2 extension, first confirm your system requirement. The extensions are copied to the right folder in the right drive so we can easily run it. Follow the installation guideline. After installation, don't forget to clear the static cache and only after that run the extension for the first time. Apply that extension of your store and check the functionality as it may not clash with the functionality of existing extension on your store.
Speed up Magento 2 store
It is the most important part of Magento 2 performance. So, upgrade Magento to the latest version. Whenever new versions are released, performance and other parameters like a bug fix, security issues, etc. will be automatically improved. To speed up Magento 2 online stores, with the help of Magento compilation function. It increases speed up to 25%-to-50 %-page load. The varnish cache also helps you to reduce response time. You can reduce the number of the separate CSS and JavaScript files and merge them into a single, condensed file. You can set up a content delivery network and optimize themes & images. You should select a proper solution provider like cloud ways.
Set up blog in Magento 2
By default, there is no function to create a blog. The writing blog is one of the best tools to drive more traffic towards your website and ultimately increases your SEO level. You can set up a Magento 2 blog with the help of custom extension. You can add a blog as an extension and easily integrate without any problem. You can also use the blog to tell the story about your Magento 2 online store business. There is a different type of blog available like AMP blog, multi blog, etc. you can select any according to your requirement.
SEO issues
Magento 2 has several SEO enhancements, there are still some open loops that may lead to the worst position in SERP. One of the issues is duplicate content. To overcome it, use rel canonical to highlight the HTTPS version as the main one and enable redirection to it. Some of the parameters like layered navigation, pagination of search result, product variation can cause duplicate content problems. So, you can at least remember to index only key navigation pages and avoid indexing sorting pages with particular parameters. There are many SEO extensions available like super easy SEO, Magento 2 rich snippets, SEO toolkit, Magento 2 xml or html sitemap, etc. you can use any SEO extension according to your requirement.
Compatibility issues
Merchants and shoppers want to create a decent online store with the help of different Magento 2 extensions. Magento 2 extensions offer different features and functionality. Installation of third-party modules may cause some issues. Now, compatibility exists. Compatibility is a state in which two things or systems are able to work together without any conflicts. Before running any latest version, First check the system requirement, whether it is suitable or not.
Closure
In this blog, we have described some of the Magento 2 issues and their possible solutions. So, you can select any of the extensions according to your requirement and run your online store smoothly.
Conclusion
Magento 2 is much quicker and more powerful than the others. It still has some issues. Knowing the issues and their solution, you can make a decent online store.
If you have any question regarding Magento 2, magecaptain has an answer for each. Magecaptain is a Magento certified eCommerce development company. It has an expert team who find the different issues and their solutions for Magento 2. Recently, they have designed and developed some Magento 2 extensions like form builder, product URL rewrite, customer attribute, auto related product, search autocomplete, etc. magecaptain offers different packages like premium magento support package, standard magento support package, basic magento support package and free magento support package.