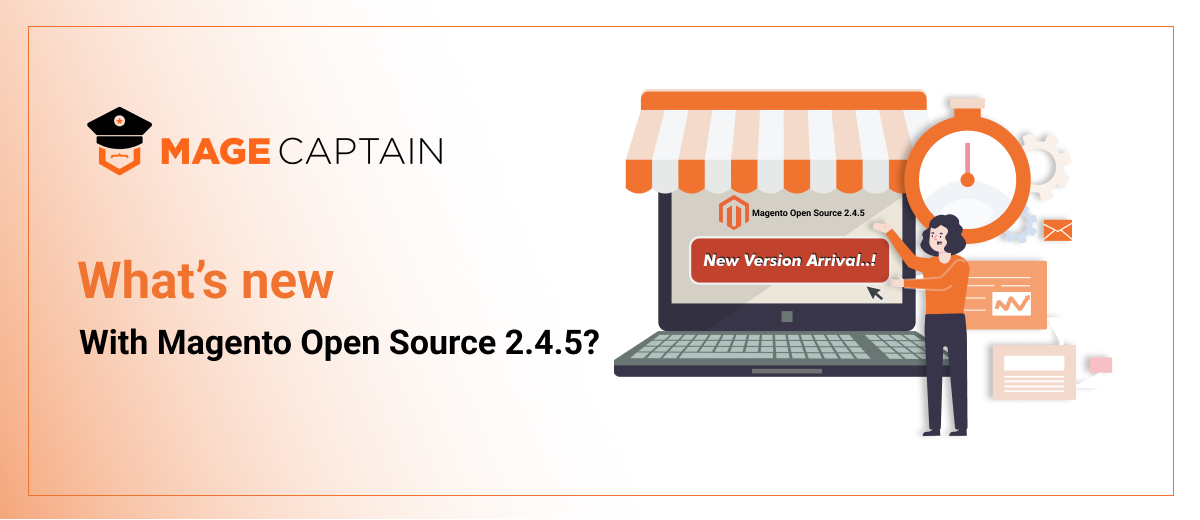 Magento 2.4.5 got released on 9th August 2022 with a full-fledged capability of 290 quality fixes and enhancements. This latest updated version of Magento has come up with higher performance quality, GraphQL performance, better payment methods and accessibility.
These additional capabilities equipped in the latest version of Magento are creating a big buzz in the market. A long queue of ecommerce service providers are getting lured for its long list of benefits.
So, it's time for the Magento merchant to have a check on the updated features and reinforcements in Magento 2.4.5 version.
What are the updates in Magento 2.4.5?
To use the complete features and capability of magento, you first need to check out the enhancements that have been done. So, let's jot down the prominent enhancements that have been incorporated by the company.
Security enhancement
There are altogether 20 security improvements and enhancement in this platform.
The wish list that shares the new account of the customer and gift card encapsulates to form new support CAPTCHA

The ACL resource has been added to the inventory with the new release of Magento 2.4.5

The inventory template comes up with new security enhancement in Magento 2.4.5

The usage of a new upgraded code filter for working on HTML purifier library
Platform enhancement
The latest enhancement of Magento 2.4.5 will support composer 2.2

Given additional support for TinyMCE 5.10.2

in the latest release of Magento 2.4.5

Additional support for jQueryUI 1.13.1 in the updated version of Magento
Platform upgrades
The integration of DHL schema from v6.0 to v6.2

The latest version has also updated the composer dependencies

The dependencies like laminas/laminas-session, laminas/laminas-text, and laminas/laminas have been taken away

The js-cookie/js-cookie

in Magento2.4.5 has replaced jquery/jquery-cookie library
Accessibility upgrades
With the latest release of Magento 2.4.5 the storefront experience has now become more strong, comprehensive and functional.
The screen reader users has acquainted search result summary data

Screen reader got enhanced

Keyboard accessibility and contrast got improved
Google analytics
Magento 2.4.5 delivery has something for SEO Experts too. New updates in Magento 2.4.5 are likewise gainful for the site's Search Engine Optimization.
Adobe Commerce 2.4.5 has inbuilt modules for Google AdWords, Analytics, Optimizer, and TagManager that will improve on coordination with Google Products and Services. This will build the open doors for following and joining with Google Services.
You can likewise involve Google Analytics 4 Magento 2 Extensions for better investigation of your store execution.
GraphQL
The new magento version facilitates fast and quick built up of GraphQL schema

for admins and developers

Instant page load with GraphQL rebuilding

Added capacity in the GraphQL API to consume the termination date/season of the approval token using JSON Web Tokens (JWT).

Send off meeting treats in GraphQL tasks utilizing class intermediaries just when required.

Expulsion of meeting use from HTTP header processors in GraphQL like the store, client, or money.
Page builder
The updated version of Magento 2.4.5 has the compatibility with Page Builder v.1.7.2.
Payments
Apple Pay is added as a Payment strategy in Magento Open Source 2.4.5. With Apple Pay, the client isn't expected to enter the charge and Visa subtleties. Apple Pay installment technique will be accessible to clients on the item subtleties page, smaller than expected truck, shopping basket, and checkout work process.
PayPal
Empower traders of Spain and Italy to offer the PayPal Pay Later choice to clients.
Administrator can now see PayPal, Credit, and Pay Later fastens from the administrator board. Administrator can check how these buttons will look on the checkout, smaller than expected truck, truck, and item pages.
Braintree
As Braintree has ended the KOUNT extortion insurance joining, it has likewise been taken out from the Magento Open Source codebase.
Added Always demand 3DS choice to the administrator.
PWA framework
Magento Open Source 2.4.5 is viable with PWA Studio v.12.5.x.

PWA Studio storefront gathers client behavior information to extend web examination.

Vendors can convey any service from the administrator.
Wrapping up
Consequently, Magento Open Source 2.4.5 is here with a total bunch of new highlights and improvements.
It is prescribed to redesign your Magento store at the earliest to upgrade security, execution, and elemental features. Passing up the Magento Open Source 2.4.5 and Adobe Commerce 2.4.5 redesigns will keep your store ahead of your market rivals.
Assuming you are looking for Magento customization, you can Hire Certified Magento Developer.
Tune on with us for the most recent Magento news.
Share the Magento Open Source 2.4.5 delivery notes with other Magento designers and traders.
Happy Reading!