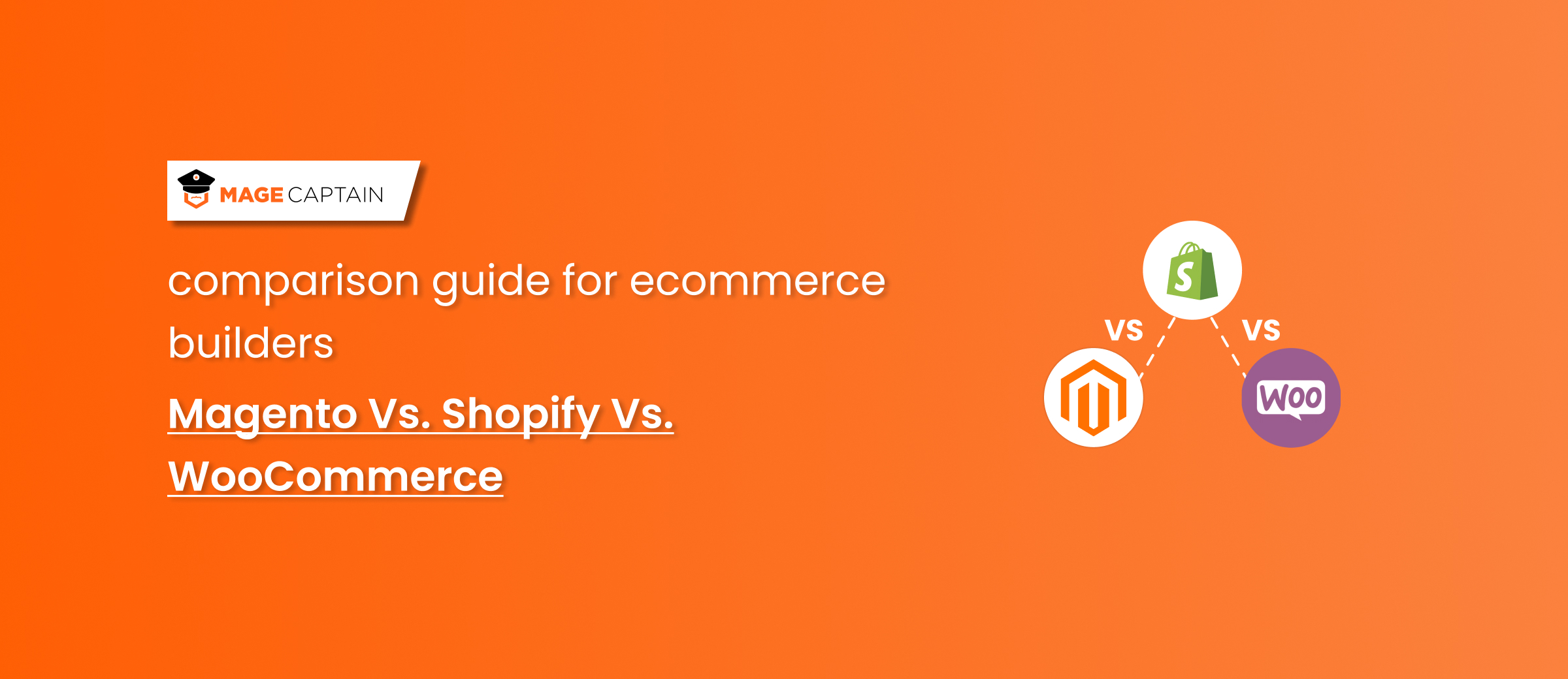 The best e-commerce platform must be selected in order to create, run, and maintain an online store. That might determine whether your company succeeds or fails in the future. Due to their constrained resources and finances, small firms need to take this into account in particular.
These days, our choices are Magento, Shopify, and WooCommerce development. Each of them has a variety of distinctive qualities, as well as advantages and disadvantages. And we'll walk you through every aspect of these platforms, guiding you toward picking the best one for your company.
Benefits and Drawback of Shopify
Benefits
WordPress blogs with social network integration
Simple to establish a store
Buying a custom domain name is simple.
Have a store with a wide selection of apps
24/7 assistance
Drawback
Every time a sale is made, a transaction charge is necessary.
The structure of URLs should not be optimized for search engines.
Benefits and Drawbacks of WooCommerce
WordPress has an e-commerce plugin called WooCommerce. WooCommerce is the top e-commerce platform in terms of sales and reach. WooCommerce is used by more than 5 million websites. This is the ideal option if you have a WordPress blog and want to sell something.
A free and open-source option is WooCommerce. As a result, you can add some paid extensions or buy a customized theme for your business to improve the functionality of your website.
You can sell real, virtual, and affiliate goods using its built-in features. Ajax shopping cart, geolocation support, responsive design, calculation of shipping and taxes, Google Analytics integration, and SEO optimization are further features that you'll get.
You can add additional features like product comparison, rapid browsing, pop-up notifications, and several payment options if you choose paid WooCommerce Plugins.
Benefits
For large-scale online enterprises, advanced features
Support for customer and shop administrator accounts
Numerous WooCommerce themes both free and paid
Options for flexible customization
Drawbacks
Because WooCommerce is an open-source platform, you may occasionally need to have some coding skills.
Everything pertaining to maintenance, such as web hosting and site security, is not supported.
For small firms, the extra features might be pricey.
Benefits and Drawbacks of Magento Development
Launched in March 2008, Magento CMS is now owned by Adobe since 2018. Currently, Magento is used by more than 700,000 websites worldwide. For their internet operations, 20th Century Fox, Olympus, and Time Out, respectively, use Magento.
Numerous built-in features are available with Magento. Languages and currencies may be changed with ease, coupons can be added, thorough reports can be created, discounts can be applied to certain products or loyal clients, etc. Customers have the option of rating and reviewing products.
Additionally, a variety of extensions and templates are available through Magento Open Source. To display unique features for your store, you can even alter the HTML or PHP code. Additionally, Magento eCommerce development lets you manage and establish several web stores.
Benefits
Several integrated features
A sizable development and user community
Numerous extensions are accessible on Magento websites Connect
Magento commerce requires no coding experience.
Several beautiful themes
Drawbacks
Setting up your business involves a lot of expenses.
Only support for the Magento Commerce solution is offered.
Due to Magneto's size, it would be preferable if you simply used a dedicated server to host it.
The setup process is challenging and time-consuming.
Performance Overview
Performance and Scalability of Shopify
Shopify performs well in terms of speed and performance for websites. As your store grows, Shopify's scalability may become a problem. Use of Shopify Plus is something you should think about if you desire smooth scaling. The Kylie Cosmetics store was able to handle more than 200,000 simultaneous browsers thanks to this infrastructure.
Performance and Scalability of WooCommerce
WooCommerce allows for scalability, but people without effective coding skills could find it difficult to scale their store websites to meet their needs.
Performance and Scalability of Magento
A comprehensive list of performance and scalability enhancements included in Magento 2.0 include:
Web page optimization for faster delivery
Increase the effectiveness of backend processes by speeding up server response for all website actions.
To handle peak loads, increase database flexibility and scalability.
Conclusion
So, this is all about the comparison between Magento vs Shopify vs WooCommerce. Every Magento 2 eCommerce development platform has some unique requirement and it all depends on the particular organization that which development partner it has to opt for.
Hope this piece of information is useful to you.
Happy Reading!